Familiar hands take the wheel
New leaders? Yes. New faces? Hardly, and that's a good thing.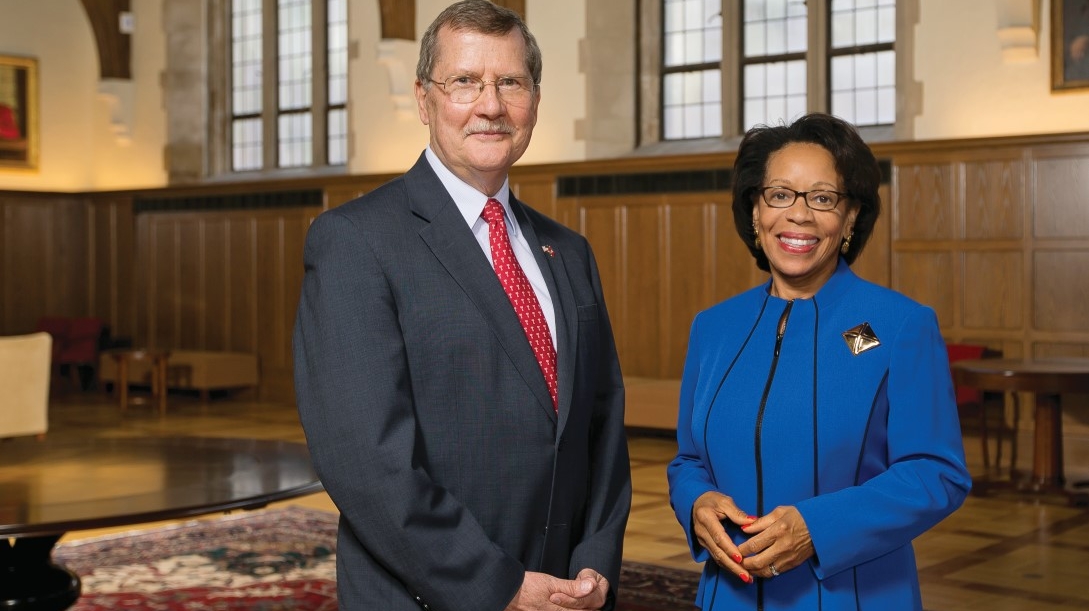 Temple has a new leadership team at the helm. But they certainly aren't new to the university community. If anyone understands where Temple's been and where it's going, it's President Richard M. Englert and Provost and Executive Vice President JoAnne A. Epps, who have been respected faculty members and leaders on campus for 71 years combined. This summer, we sat down with Englert and Epps to get their take on the state of the university.
You've both been part of the Temple family for a long time. When did you arrive?
Richard M. Englert (RME): In the mid-1970s. I was assistant to the dean of the College of Education. Since then I've held 16 different positions, including provost, dean of the College of Education and acting director of
Athletics. So, I have seen the university from many perspectives.
JoAnne A. Epps (JAE): I started at the Temple University Beasley School of Law 31 years ago, and served the past eight as dean. But I was introduced to Temple long before that. My mother was a secretary here and my first job was here. I worked at the Temple bookstore when I was a teenager. 
Temple's momentum arises from our collective energy focused on excellence.
-- President Englert
What excites you most about today's Temple compared to decades ago?
RME: We're much more of a destination campus and much more of a residential campus. The number of students living on or near Main Campus has nearly quadrupled in less than 15 years. That's extraordinary. The facilities are enormously attractive and inviting. Campus is so vibrant now, even late at night. People want to linger. If there are alumni who haven't been to campus lately, I invite them to come back. They will be amazed.
JAE: That transformation of campus will continue in the near future. I'm excited about the new library, for example—it's going to be stunning. People will love the physical nature of the building, but the new library also represents why we're here. It will be the hub of academic activity at the university. I can't wait.
Do you think recent changes will slow Temple's momentum?
RME: Absolutely not. There has never been a better time to be a part of the Temple community. Temple's momentum arises from our collective energy focused on excellence. Our fundamentals are strong. That's what has fueled our rising academic reputation.
What are some of those fundamentals?
JAE: They start with our people. Our outstanding faculty—they are terrific teachers, and they're doing extraordinary, groundbreaking, internationally recognized research and scholarship—and our students are smart, enthusiastic, curious and excited about learning. I think it's also important to note that the financial condition of this university is very secure.
RME: You can see our fundamental strength in this year's new students. There was unprecedented demand for a Temple education. We received a record 34,000 applications this year, and our new freshman class is the largest and most highly credentialed in our history. 
More students than ever say they choose Temple because of its location.
JAE: I get that. The city is a life laboratory. They're exposed to so many people, so many points of view, so many opportunities. It's infinite, it's joyous, it's loud, it's raucous and it's wonderful. 
Both of you have mentioned the importance of a renewed focus on Temple's mission. What does that mission mean to you?
JAE: What excites me about Temple's mission is its simultaneous focus on being both an extraordinarily successful research institution and not forgetting to enroll, educate and develop people of all backgrounds. We are doing two wonderful things: reaching great heights, yet always being mindful of reaching back and bringing along the people who will take this place even further in the future.
RME: Temple has proved that excellence in education, access, affordability and diversity are not mutually exclusive. That's what we've done better than anyone else for more than 130 years. That won't change.
You're huge Temple sports fans. Where are you most likely to be seen?
JAE: I enjoy all Temple sports, but I'm a regular at football and basketball games. I've had my own tickets for decades.
RME: Our student-athletes are terrific, and I'm proud of what they've accomplished on and off the field. I try to watch every team compete—the new Temple sports complex makes that easier than ever—but I won't hide my special passion for volleyball.