Posted
September 28, 2017
State of the University address highlights discovery, achievements
In his 2017 State of the University address, Temple University President Richard M. Englert spoke of the university's "age of discovery" and numerous landmark achievements.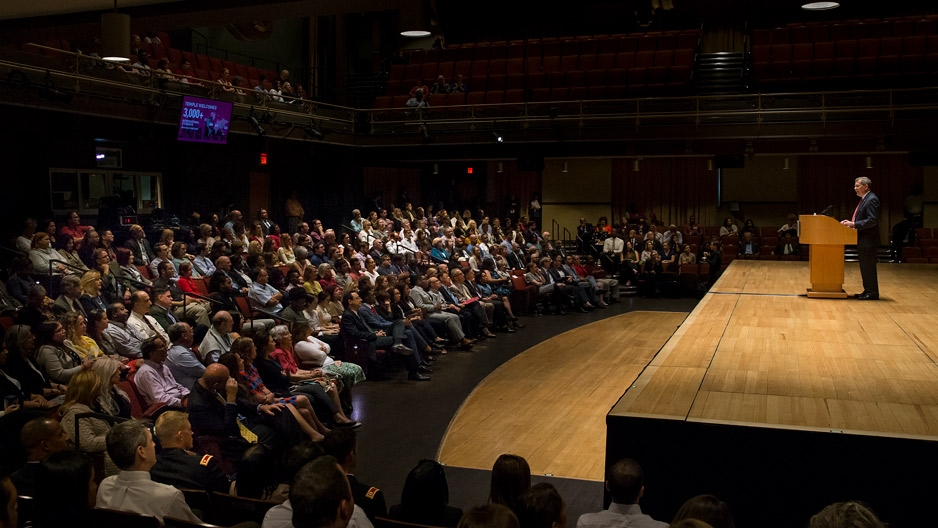 At his second annual State of the University address on Thursday, Temple University President Richard M. Englert celebrated an "age of discovery" at Temple, acknowledging a series of unprecedented achievements for the university in a range of areas, including enrollment, fundraising, research, community engagement and academic reputation.
Breaking records
Englert opened the speech with a surprise announcement: With the conclusion of the annual admissions cycle this month, student enrollment at Temple has pushed into uncharted territory.
"More students have discovered and enrolled at Temple University than ever before," Englert told a crowd of mostly faculty and staff at the Temple Performing Arts Center. "In fact, Temple broke a record … This year, there are 40,240 students enrolled at Temple. This is in an era when other schools are struggling to make their classes."
Englert thanked Board of Trustees Chair Patrick J. O'Connor and his fellow trustees for their generosity and financial support.
"Seventeen of our board members have given more than a million dollars each to the university, with a number having donated more than $10 million," he said.
New discoveries
"I know of no other university where the faculty so artfully combines excellence in teaching with prominence in research, outstanding engagement with our neighbors and all of society, and vital clinical services to those in need," Englert said.
Community engagement
"Discovery is not limited to the classroom or the campus. We have also been building new and vital bridges with our neighbors in North Philadelphia and the city as a whole," Englert said.
Englert singled out
Symphony for a Broken Orchestra
, a project led by Temple Contemporary at the Tyler School of Art, calling it "one of the most innovative efforts I've seen in my 41 years here to have an impact on Philadelphia's schools."
Symphony for a Broken Orchestra, which received major support from the Pew Center for Arts & Heritage, has collected more than 1,000 damaged musical instruments from Philadelphia's public schools. The instruments will be used to compose a symphonic piece that will be performed in December before the instruments are repaired and returned to the School District of Philadelphia, along with kits for their future maintenance.
Englert also said that a strong relationship and a spirit of collaboration with the communities that surround Temple would continue to inform the university's efforts to address neighbors' concerns about trash, noise and student behavior off-campus, as well as Temple's ongoing studies of the potential for a "multipurpose facility including a stadium, classrooms, research space and a retail complex" at Main Campus.
"If such a facility were to be built, our goal would be a multi-purpose facility that will have benefits for our neighbors as well as the university," he said.
Englert added: "Clear evidence is emerging that Temple could save money by building our own facility over continuing to rent the Linc. In fact, we believe that owning our own facility, rather than renting, would result in a net $2 million to $3 million in annual cost savings."
The president added that additional analysis continues on the project, "and you'll be hearing more in the months to come as the data become clearer."
"The world is discovering who we are"
The energy and dedication of Temple's faculty and staff has led to a surge of recognition of Temple's academic excellence and engagement—a "trend that can't be denied," Englert said.
Temple recently earned its
highest U.S. News Best Colleges ranking
(No. 115 in the nation), he noted, as well as its highest U.S. News rank among public national universities (No. 53). Temple also debuted at No. 92 in U.S. News' new "Best Value Schools" ranking of national universities, placing it higher than high-profile public institutions such as Cal–Berkeley and Penn State.
Englert also saluted Temple Student Government (TSG) and its president, Tyrell Mann-Barnes, who was recently
invited by Pennsylvania Gov. Tom Wolf to speak
at the State Capitol as the sole college representative to address the issue of sexual assault, an area of focus for the current TSG administration. Englert praised TSG as models of leadership, noting that Temple recently earned a No. 13 rank from
the Princeton Review
for "most active student government."
"The bottom line is this: The work that you—all of you—are doing at Temple is making a difference, and the world is discovering that fact," Englert said, thanking Temple faculty, staff and students for their "vital role in generating and sustaining Temple's momentum."
To illustrate how Temple's Office of Strategic Marketing & Communications is using the theme of discovery to capture the university's momentum, Englert showed
a video
that's part of a new Temple marketing campaign.