Alumna launches her own beauty brand after founding student organization
Beauty entrepreneur Taylor Sanders discusses her early success and credits Temple for helping her pursue her passions.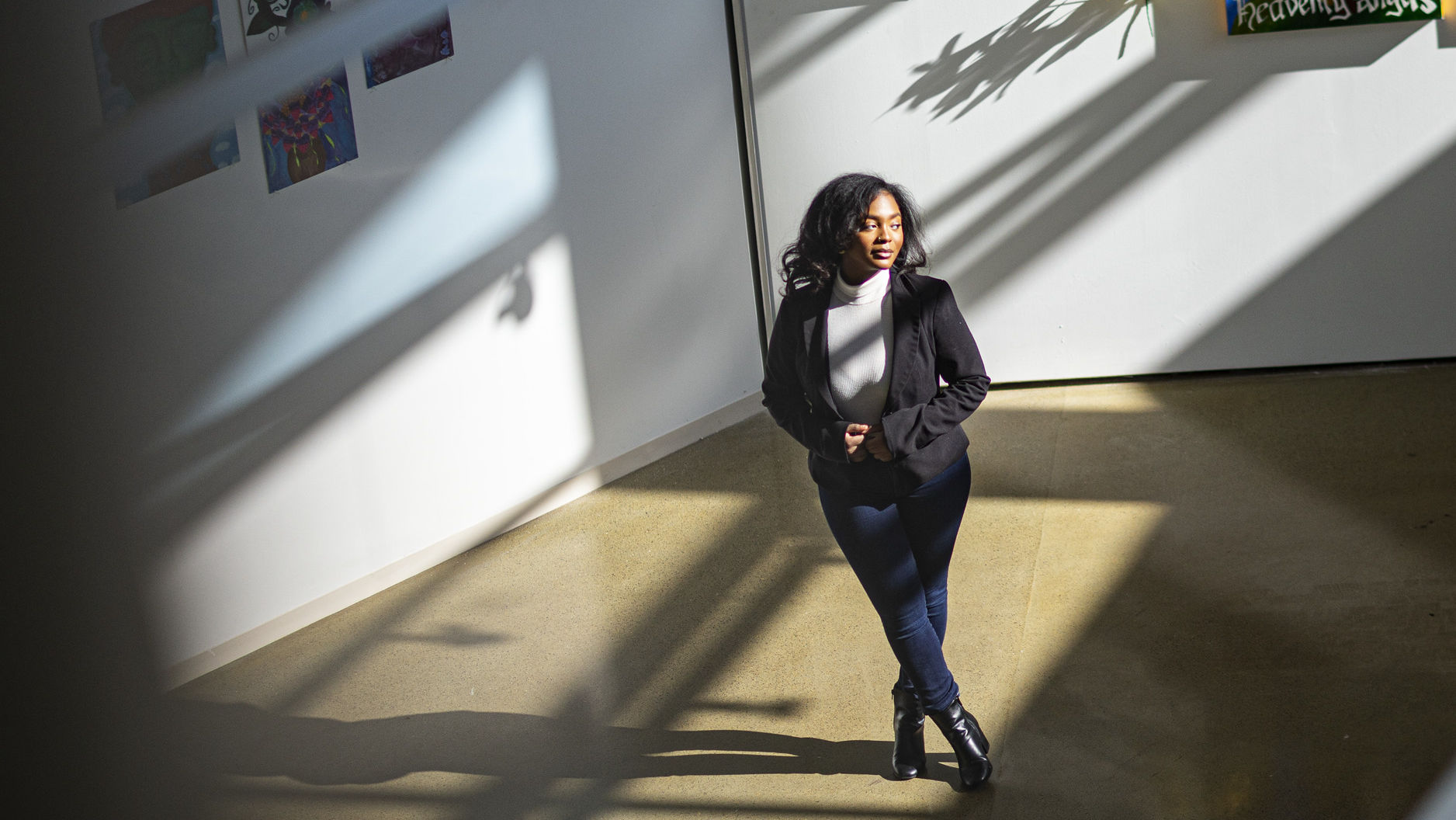 While Taylor Sanders, TYL '21, FOX '21, was launching her beauty brand Snake Magic Skin Care, she felt like giving up. But she remembered a message she heard at Temple.
"Perseverance conquers is something Temple says, and I feel it does," said Sanders, who is originally from Prince George's County, Maryland. "If I would have stopped, nothing I accomplished would have happened. Persevering helped me achieve my goals, and I hope it continues to do so."
At Temple, Sanders was inspired to turn her passion for beauty into a business. Snake Magic Skin Care sells body scrubs and bath bombs, which are clean skin care products that Sanders manufactures.
"When I was a kid, my mom loved Bath and Body Works, so she would get scrubs from there. I wanted to use them, but she wouldn't let me. So I decided to make my own, and it became a thing," said Sanders. 
Eventually she'd like the company to have a full skin care and body care line—becoming a self-care, lifestyle brand—and for the products to be sold in Target, Sephora and Ulta.
Sanders also wants to cultivate a welcoming community for Snake Magic. "I think skin care and self-care can feel forced down our throats," she said. "I just want my brand to feel fun and empowering. Being rooted in feel-good and easy skin care is something that makes us different."
Snake Magic began when Sanders entered Fox's Be Your Own Boss Bowl as a novice entrepreneur. After working with investors and business professionals, Sanders learned she could take her business to the next level. She made a website, started marketing campaigns and recently had her first brand photo shoot.
"It takes bravery and a lot of confidence to be an entrepreneur," said Sanders. "Being an entrepreneur has taught me to be someone who creates space, which can be so impactful, and I learned that from Temple."
Sanders' commitment to community was also evident in her founding of the Temple student organization Women of Color Creatives in 2019 during her junior year. The club's mission is to empower creative women of color, making an inclusive space that spans all schools.
"I figured if I couldn't find the sisterhood that I wanted, I was just going to create it."
-- Taylor Sanders
"I was a transfer student [from Goucher College] and didn't know anybody, so I figured if I couldn't find the sisterhood that I wanted, I was just going to create it," said Sanders.
Sanders credits the organization's executive board members for continuing the mission and vision, especially after she stepped down as president during the pandemic when she couldn't come to campus. 
"I'm proud I made a space that's going beyond me," Sanders said about Women of Color Creatives. "I imagine myself years from now coming back to see that this club is huge on campus. I hope to be super successful and contribute to my community at Temple, especially Women of Color Creatives."
At Temple, Sanders also learned that it was okay to change direction. Originally an art history major at Tyler, she entered the international business program at Fox as well.
"My two dreams were accomplished at Temple being both an art and business student," said Sanders. "Fox opened my mind to being an entrepreneur and doing multiple things and made me realize I don't only have to be creative as an artist; I can be creative in so many other ways."
"Temple allowed me to be a lot more creative in my pursuits and goals. I figured out things while in college, and I'm still figuring out a lot now."
Currently, Sanders works as a content editor. In May, she'll begin a new role as an account representative for CDW in Chicago. In this new position, she plans to grow and learn what part of business she's most interested in.
"I'm really interested to see how my career becomes different things," she said. "I never imagined myself being a one-trick pony. Everyone, all my professors at Temple, told me I could do anything, opening all these career paths for me."
Ultimately, Sanders is proud she transferred to Temple. "I became more confident in myself and my decisions at Temple," she said. "It made me a doer."