From advisors to awardees: Temple colleagues earn Fulbright honors
Amanda Neuber and Barbara Gorka play a pivotal role in helping Temple students earn Fulbrights. But this fall, the pair found themselves on the receiving end of the prestigious award.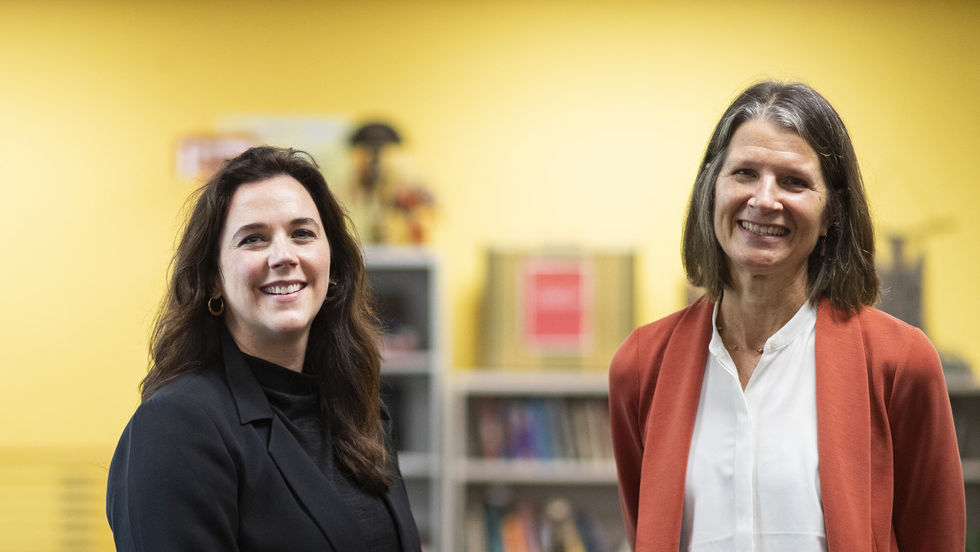 Amanda Neuber and Barbara Gorka know a thing or two about preparing Owls for success during their time at Temple and beyond. Gorka serves as director of fellowships advising, while Neuber is the director of Temple's Honors Program. The two have spent years encouraging students to enrich their college experience through professional development programs, scholarships and fellowships, and they have helped Temple earn recognition as a top producer of Fubright recipients. 
But this fall the script was flipped, and the two colleagues and friends found themselves on the receiving end of Fulbright International Education Administrators awards. 
"Well, it was amazing," Gorka laughed, recounting the moment she learned she had won the award. "We know how excited students are when they receive that news, and I think we both felt that same emotion." 
The Fulbright International Education Administrators (IEA) Award allows higher education administrators to explore foreign higher education systems, gain a cross-cultural perspective, and foster collaboration with colleagues and students around the world.  
Earlier in October, Neuber attended the IEA program in France, while Gorka attended the program in Germany. The pair spent time visiting universities and research institutions and attending seminars focused on international exchange. They were joined by administrators from U.S. universities serving in various roles, including those from study abroad offices, advancement and development offices, career centers, and even presidents and provosts. 
"All Fulbright awards are meant to increase understanding between people from the United States and people from the host country," Gorka said. "These opportunities are available to anyone who wants to promote and impact global exchange within their institutions," Neuber said about IEA programs. 
As director of fellowships advising, Gorka works with all Temple students—undergraduate, graduate and alumni—to help them identify and take advantage of opportunities to enhance their education or career. These include fellowships (including Fulbrights), scholarships, research and peer teaching opportunities. 
Neuber has worked in Temple Honors since 2005, and she took the helm as director of the program in 2021. Temple Honors serves its roughly 2,000 students by providing holistic advising, a community of high-achieving peers, diverse study opportunities and other kinds of academic support. As director of the program, Neuber works closely with Gorka, as well as with the Office of Education Abroad and Overseas Campuses, to encourage Honors students to take advantage of opportunities around the world. 
Part of the application process required Neuber and Gorka to stake their claim for how Temple, and their individual departments within the university, would benefit from their participation. 
"One of the reasons I was interested in the France program is because I want to remove any barriers, perceived or real, to the education abroad experience," Neuber said. The France program focuses specifically on research institutions, and it included visits to the French Alternative Energies and Atomic Energy Commission, and the GIANT Innovation campus. Neuber is hoping to open pathways for studying abroad among Temple STEM students, a group that doesn't always consider options to study internationally. 
"I want every single Honors student to study abroad, and I have to figure out a way for them to do so," Neuber said. 
Outside of Spanish-speaking countries and the U.K., Gorka says that Germany is where Temple sees its greatest number of Fulbright applicants. She anticipates that her participation in Germany's IEA program will help her prepare students to live and study in the country. 
"When I meet with fellowship applicants, my goal is not just to help them write the best essays they are capable of, but also to prepare them for the highly independent experiences abroad they are proposing," Gorka said. "Learning more about Germany's higher education system should certainly help me better prepare our applicants to thrive during their Fulbrights and other opportunities in the country." 
Applying for the IEA program has also helped Gorka better support students with their Fulbright applications this year.  
"When I was working on my application, I had to follow my own advice, and sometimes I hated my own advice," Gorka said. "My first draft of one of the essays was twice as long as it's supposed to be, but one of my pieces of advice to students is to just get everything written down and you can decide later what to cut." 
Winning Fulbright awards is something of a full circle moment for Neuber and Gorka, and the experience has helped drive home the importance and value that these opportunities provide for students. 
"One of the pillars of Temple Honors is intellectual curiosity, which is really about asking and answering questions, developing yourself as an interdisciplinary thinker, and becoming adaptable and capable of solving real-world problems," Neuber said. "I'm constantly encouraging students to step outside of their comfort zone, and applying for a Fulbright absolutely puts them out of their comfort zone. The art of talking about yourself and writing about yourself is something that can only be developed in practice, and this is a fantastic way to engage in that."