The ultimate list of resources for first-generation students
Nearly 1 in 3 Temple students are first-generation. Here is your guide to the Temple resources that you should know about for your most successful college experience!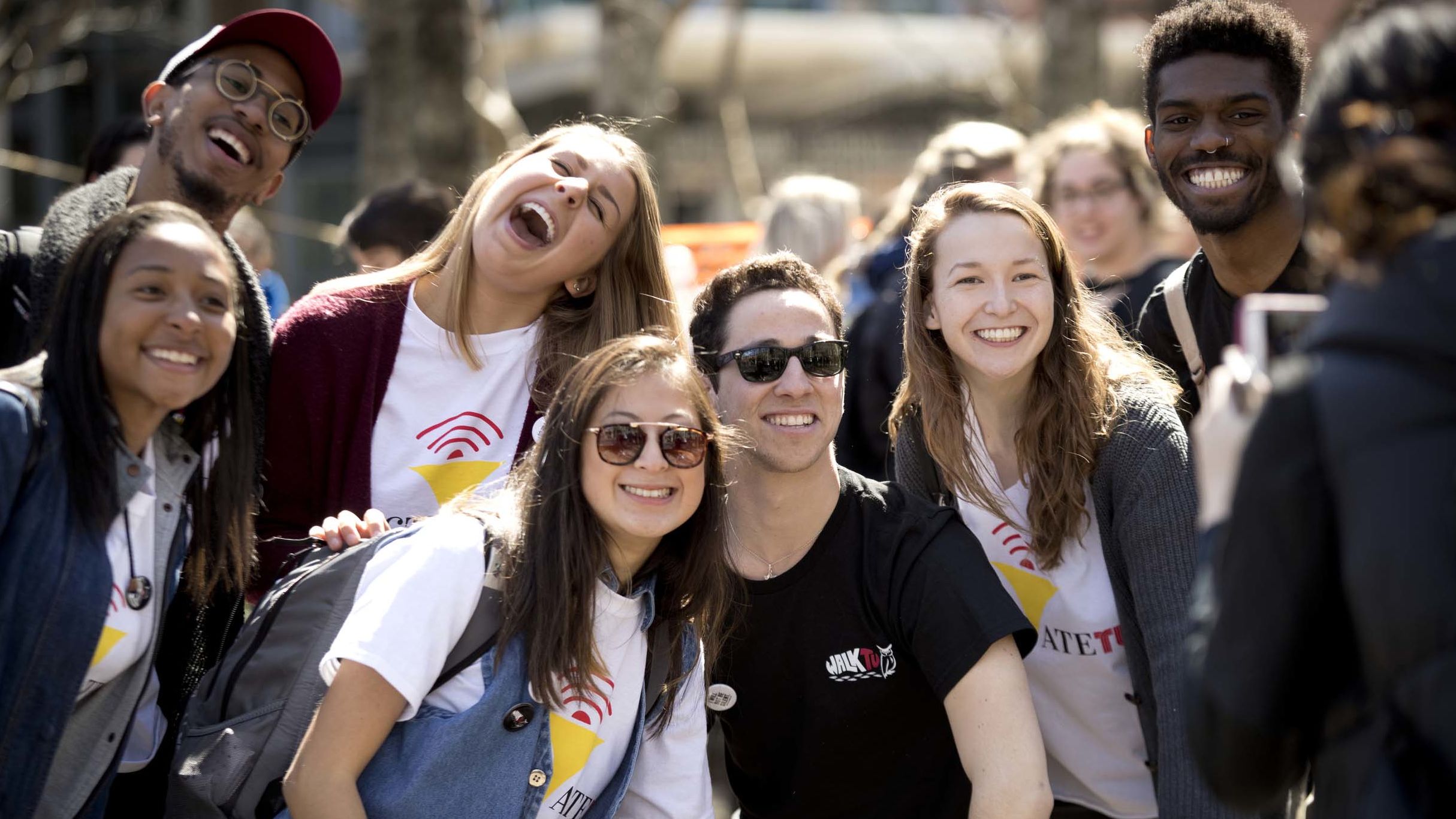 Updated Nov. 4, 2022
If you're a first-generation student at Temple, you're not alone. As of this year, 31.2% of Temple students are the first in their families to attend college and many faculty and staff at Temple were first-generation students themselves. 
Being the first to navigate the college experience is likely a huge point of pride for you and your family, but it can be tough—and with so many programs, courses, career opportunities and more, it can be hard to know where to turn for guidance and what resources are available. So, we've put together this guide to Temple's academic and financial resources, student organizations, health resources, and more!
Get involved!
Temple First is Temple's chapter of the Collective Success Network and it is a hub where first-gen students can connect with and support other first-gen students. The org is dedicated to supporting students through mentorship, professional development, networking and leadership opportunities, and it's free to join. You can connect with the organization through Owl Connect or contact csntemplefirst@gmail.com for more information.
And that's not all! With over 300 student organizations involving all kinds of interests, there is something for everyone to get involved in at Temple. (Check out our article on student orgs you want to know about.) Whether it's service, sports, performing, student government or something else, joining clubs is the best way to meet other Owls who share your interests! Be sure to check out TempleFest at the beginning of each semester, where you can explore Temple's student organizations, or connect with orgs anytime online using Owl Connect.
Don't be afraid to ask questions
While we've got the rundown on universitywide programs and services, it is important to remember there are people you can ask for help on an individual level as well. If you're struggling in any of your courses, reach out to your professor or visit their office hours (which you'll find on your class' syllabus) for guidance on assignments and for any questions you may not have been able to ask during class time. Your professors are also a great resource if you have career questions and they'll be happy to share their knowledge with you!
For help with your class schedule, questions about your major's requirements, and to check your progress towards your degree and any steps you still need to take, make an appointment with an academic advisor. Appointments can be made on TUportal by clicking "schedule" under the Appointment System in the Student Tools section.
Actually, it's all on the portal
Your TUportal is your own personal hub for a huge variety of Temple's resources. Find announcements from Temple, explore the applications available to you, access your financial information, register for classes, access the Career Center and much more.
TUapplications, located on the right side of the page, provides a comprehensive list of resources including housing and meal plans, your Temple email, Diamond Dollars, and Adobe Creative Cloud, among other applications and resources.
Each semester, you'll register for classes through TUportal. Class registration can be found in the Student Tools section, under Registration, on the left side of the page. Here, you can plan your schedule and prepare for registration, and add or drop classes during the registration period. You can also browse the course catalog, watch video tutorials on registering and find information on changing your major. If you have any registration questions, make an appointment with an advisor!
Keep track of your financial information under the Costs and Aid section. Here, you can view your balance; check your financial aid requirements; and see your scholarships, grants and rewards by viewing your current financial aid offer. 
The portal also has a variety of career resources under the Career Center section. You can find all kinds of networks, view job listings and apply for positions, as well as make appointments at the Career Center. 
Speaking of careers, Handshake is Temple's own internship and job portal for students and alumni! Handshake connects students with thousands of employers nationwide and hosts professional development and career fairs. It recommends positions based on your major and areas of interest, and you can connect with recruiters and hiring managers directly.
Finding a major
If you're undeclared or looking to switch majors, University Studies at Temple's Academic Resource Center has all the tools you need to develop your academic and career goals and find the major that's right for you! Through their peer mentor program, you can meet with other students who found their majors through University Studies. The Academic Resource Center offers the Major Exploration Academy, a four-step, one-on-one program to guide you through the process of finding a major. Contact dus@temple.edu for more information.
Whether you're declared or undecided, knowing which major is truly right for you is crucial. Temple Bulletins provides extensive info on all of the university's colleges, divisions, majors, minors, tracks and certificates. Find your college of interest under schools, colleges and divisions. From there you can find all of the requirements for every program available, plus course descriptions, examples of academic plans, policies, faculty and more! 
For help with declaring or switching your major, set up an appointment with an advisor. It's totally okay to switch majors, even after you've completed courses for your current major—you want to make sure your degree is right for you and your career goals!
Academic assistance
The Student Success Center is your source for all your academic support needs, including writing tutoring and assistance, STEM tutoring, peer-assisted study groups, and more! Visit studentsuccess.temple.edu to schedule appointments, find the center on the second floor of Charles Library or contact ssc@temple.edu for more information. The center also offers a monthly newsletter.
Disability Resources and Services, located in Howard Gittis Student Center South, assists students with disabilities with accessible housing, accommodations, assistive technology, scholarships and more. Visit disabilityresources.temple.edu or contact 215-204-1280 or drs@temple.edu.
The rundown on FAFSA
The Free Application for Federal Student Aid, or FAFSA, is the most important document to fill out for financial aid, but it can be confusing for anyone—and problems with filling out the form are among the most common reported by first-gen students.
 
If you have any questions while filling out the form, don't hesitate to reach out to Student Financial Services (SFS)! You can schedule an appointment through their website or call 215-204-2244. SFS also offers help with scholarships, grants, loans and work study.
Cherry Pantry
No student has to go without their basic needs met. If you are experiencing food insecurity, Cherry Pantry, located in room 224A in the Student Center, offers free food and hygiene products to students, no application or approval necessary. Cherry Pantry can be visited once a week by anyone with a TUid, and it is open on Tuesday from 1 p.m. to 5 p.m., Wednesday from 4 p.m. to 8 p.m. and Thursday from 1 p.m. to 5 p.m. Contact cherrypantry@temple.edu for more information.
Health services
Tuttleman Counseling Services and Student Health Services, both located at 1700 N. Broad St., offer mental and physical health services to all students, including individual and group counseling, crisis support, physicals, medications and more. Visit counseling.temple.edu/about-us for hours and appointment and services information for Tuttleman Counseling Services and studenthealth.temple.edu/ for information about Student Health Services.
College can be stressful, especially when you're navigating it for the first time. Temple's Wellness Resource Center is all about mental health, balance, and finding creative and innovative ways to relieve stress and improve mental well-being. The center offers workshops on health and stress relief in various areas, wellness consultations, drug and alcohol education, professional development, and so much more! They host a variety of events virtually and on campus and you can keep up with them on Temple's events calendar, or you can follow @BeWellTU on Instagram and Twitter.
Temple's Institutional Diversity, Equity, Advocacy and Leadership (IDEAL) office is dedicated to empowering students, staff and the surrounding community to share and learn diverse perspectives and maintain Temple's welcoming and inclusive culture through events, trainings and community-building. For more information, visit their website and keep up with them by following @templediversity on Instagram and Twitter!
Stay connected!
Stay up to date with happenings at Temple on social media! Follow @TempleUniv on Instagram and Twitter or @templeu on Facebook to keep up with the latest at the university. Many schools and programs within Temple have their own social media accounts as well, so be sure to check those out! You can also check out our article on 12 social media accounts you should be following.
You got this!
Temple's faculty and staff are here for you and any questions you have. No one comes to college knowing everything and Temple's resources are here to help you to be successful in the classroom and beyond!
—Corinna Boeck