Summer 2023 brought new changes to Temple
The summer of 2023 brought new facilities, people and opportunities to campus and the surrounding community.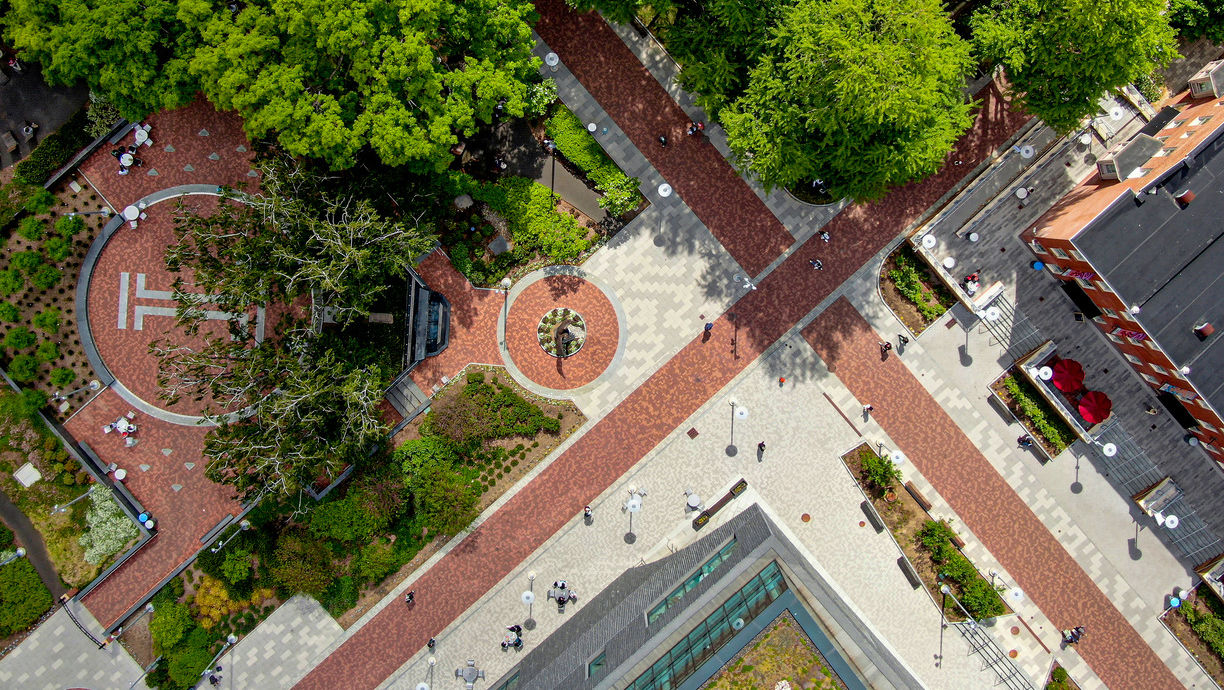 While most students were enjoying their summer holiday off campus doing fun things like internships with minor league baseball and global energy sales, Temple's staff, faculty and administration were busy making improvements to campus like upgrading facilities, building resources for our North Philadelphia community members and generally paving the way for new ideas.  
Here are some of the most exciting things to happen in the Temple community during the summer of 2023.  
A brand new Owl mark was unveiled. The beautiful secondary logo was designed by a Temple alum in collaboration with some of Temple's own graphic and interactive design students. The new mark is intended to be used mostly as an athletics logo and will not replace the well-known Temple "T." The outline of the new logo is shaped like a diamond as a nod to the acres of diamonds in Temple founder Russell Conwell's famous speech.  
The Temple community welcomed several new deans, too. In early May, Chip Hunter was named dean of the Fox School of Business and the School of Sport, Tourism and Hospitality Management. On July 1, Monika Williams Shealey took over as dean of the College of Education and Human Development after serving as senior vice president of diversity, equity and inclusion (DEI) at Rowan University. On Aug. 1, Jennifer Ibrahim officially became dean of the College of Public Health and School of Social Work after serving in the role in an interim capacity. In August, the College of Science and Technology announced that Miguel Mostafá, a distinguished faculty member at three R1 universities in the U.S., will take over as dean starting Oct. 1. 
Temple's Department of Public Safety grew their team as well. The department introduced three key new roles—deputy director of organizational affairs, director of tactics and professional development, and associate director of organization administration—as part of a reorganization. In addition, alum and accomplished CBS News Philadelphia reporter Matt Petrillo, KLN '12, joined the department as its director of communications. Temple's Department of Public Safety also launched the TUSafe app to replace the RAVE Temple Guardian app. The new app has all the same features as the previous app, but will now offer an upgraded emergency alert system, a new interface to request walking escorts and more campus maps. 
Campus has some new additions including a renovation of the 12th Street Vendor Pad (a.k.a. "the Wall") and an installation of graphic panels that highlight North Philadelphia's rich history at the corner of Broad Street and Cecil B. Moore Avenue. 
The university also announced the opening of the Temple Community Gateway. Opening this fall, it will serve as a place where North Philadelphia community members can gain access to a variety of resources and is expected to become a foundational component of Temple's relationship with the surrounding North Philadelphia community.  
Temple demonstrated its commitment to supporting the North Philadelphia community in other ways this summer, too. In June, Temple hosted its 16th annual Neighborhood Job Fair and Resource Village, which connected community members with job opportunities and offered free career coaching, resume help and interview coaching. Temple's men's crew and women's rowing teams also hosted a free youth rowing camp for sixth through eighth graders living in Philadelphia, giving them the opportunity to spend time on campus and learn how to row at Temple's boathouse on the Schuylkill River. 
The whirlwind of activity on campus over the summer demonstrates Temple's unwavering dedication to progress, innovation, and community outreach. As the new academic year approaches, Temple's spirit of growth and collaboration continues to shine brightly, illuminating the path ahead.