A new president, the upcoming opening of new centers for anti-racism and sports media, and the continued fight against COVID-19 are among Temple University's highlights in 2021.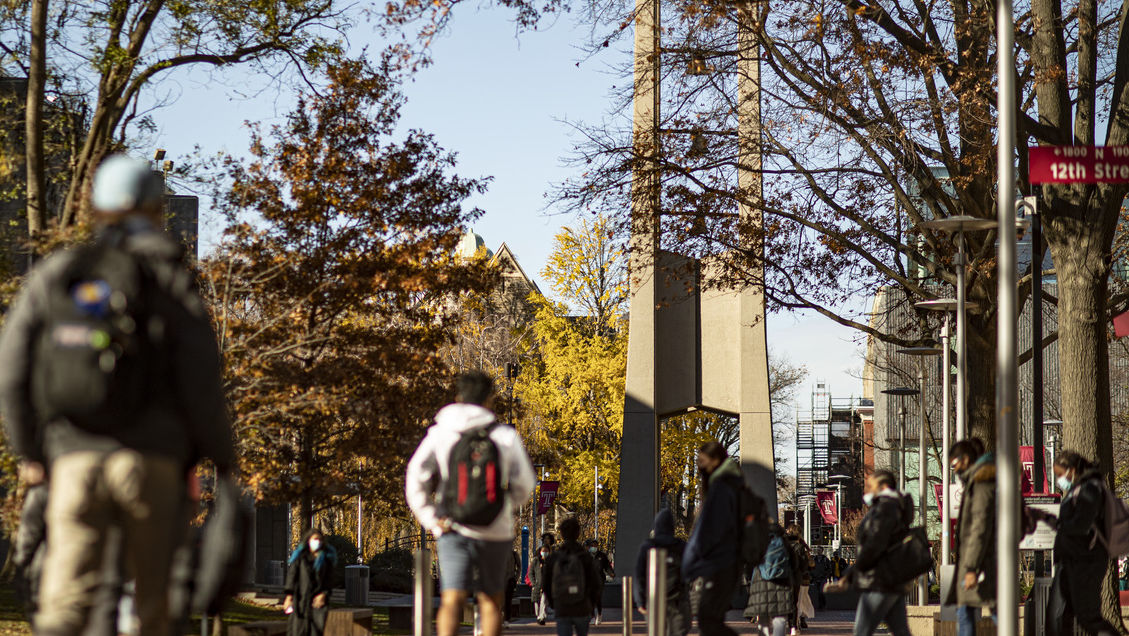 In another challenging year, change has propelled Temple University forward. The new faces and initiatives signal our resilience and continued commitment to excellence.
Here are some of our proudest moments of 2021.
We welcomed a new president—the first African American president in Temple's 137-year history. In July, Jason Wingard began his tenure at Temple University. For more from President Wingard, please read his piece featured in the Chicago Tribune and watch his interview with senior Niccolas Uff.
We named Arthur Johnson as new vice president and director of athletics. "All of the necessary ingredients are in place for Temple to be a force in Division I Athletics while developing great citizens who will make a positive impact on the world," Johnson said.
Timothy Welbeck will lead the Center for Anti-racism Research, opening in spring 2022. Welbeck says the center will engage in various forms of scholarship about racial hierarchy and systemic racism and the effects on both individuals and groups in the past and present. Also, the Department of Africology and African American Studies welcomed four new associate professors and alumnus and anti-racism scholar Ibram X. Kendi, CLA '07, '10, was named a MacArthur Fellow.
We received new gifts, including the upcoming Claire Smith Center for Sports Media, a $5 million donation to the College of Liberal Arts and point-of-care ultrasound technology for Lewis Katz School of Medicine students.
We had record fundraising and COVID-19 relief distribution, with donations to Temple exceeding more than $100 million for the second straight year and $39,204,052 for grants to students affected by the pandemic.
Temple students from various university organizations met members of the Pennsylvania General Assembly in Harrisburg to advocate for the state's continued funding of Temple—a tradition known as Owls on the Hill.
We introduced new scholarships such as the Cecil B. Moore Scholars Program for students from North Philadelphia and the Independence Foundation Healthcare Scholars Pipeline Program for up to 20 nursing students in the College of Public Health.
We continued to fight against COVID-19. College of Public Health Professor Sarah Bass won the American Public Health Association's Everett M. Rogers Award, a national honor for outstanding contribution to public health communication. Additionally, as of Nov. 19, more than 97% of the Temple community reported as fully vaccinated and 2.5% had approved medical or religious exemptions.
At our Ambler campus, we began recovering from an EF2-level tornado. The facilities department and faculty and staff worked hard to prepare for Ambler's reopening, which occurred less than two weeks after the storm hit campus, damaging buildings and destroying and uprooting trees. To accelerate the recovery, an Ambler Relief Fund was created.
We took on gun violence. Temple trauma surgeon Jessica Beard was awarded a fellowship to examine Philadelphia media reporting of gun violence and work with local journalists to educate the public on root causes and possible solutions. Also, Scott Charles, trauma outreach manager at Temple University Hospital, spoke about gun violence prevention at a special event sponsored by the Chamber of Commerce for Greater Philadelphia.
We engaged with the community. Temple staff members are part of Philly Community Wireless, working to offer free, net-neutral Wi-Fi to North Philadelphia residents. In addition, Temple's Lenfest North Philadelphia Workforce Initiative was awarded a $2.5 million grant to support efforts to improve youth and adult employment opportunities in North Philadelphia.
We offered rich arts and culture. The Temple University Jazz Band recorded an album, Without You, No Me, in honor of local jazz musicians Jimmy Heath, Bootsie Barnes and Shirley Scott as well as former Temple men's basketball Coach John Chaney. Temple Theaters also performed its first in-person production since COVID-19, Spring Awakening, and "Revolutionary Philadelphia," a new mural sponsored by Temple and the Global Philadelphia Association, was created.
Forbes ranked Temple University as the No. 4 best employer in Pennsylvania and the No. 2 best employer in Philadelphia.
We said farewell to our 2021 graduates and welcomed our most diverse class in 25 years. Temple's 134th Commencement in the spring included an online celebration for the entire graduating Class of 2021 and intimate in-person school and college ceremonies. In the fall, Temple welcomed the Class of 2025, the most ethnically and geographically diverse in 25 years.
We introduced our annual 30 Under 30 award winners for 2020. This program honors trailblazing young alumni who are challenging the status quo to ensure a better future, embodying Temple's spirit and mission.
We celebrated the life and legacy of John Chaney. The Temple community gathered at the Liacouras Center to honor late, legendary Temple men's basketball Coach John Chaney in a service broadcast live across the United States.